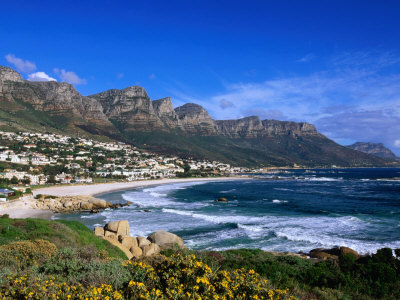 Some of us are still stuck in the office and taking leave is becomng a distant dream as December dissapears into obscurity but yet to keep us sane we day dream about some day retiring somewhere close to the beach and living hyapilly ever after.
Located on Nettleton Ridge below Lion's Head in Clifton and known simply as House 3 at this early stage of development, this dream home's modest facade belies an impressive use of space and positioning that has warranted a R110-million price tag.
That's almost double the R60-million recently recorded as an Atlantic seaboard record price for a nearby home on Nettleton Road - one of SA's most sought-after addresses.
Listed on Wikipedia as the most expensive street in Africa, Nettleton Road features many of Cape Town's most luxurious villas and trophy homes, where captains of industry, foreign celebrities and unnamed billionaires follow the endless summer. Regularly achieving prices of R50-million and more, Nettleton Road houses - with unobstructed views of Clifton, Camps Bay and the Twelve Apostles - have hosted guests from Nicolas Cage and George Michael to Saudi oil tycoons.
Artist impression
House 3 sports more than 1500m² under roof and 350m² of garden terrace. "It is one of three top-end homes in Nettleton Ridge, an exclusive R350-million cul-de-sac development that is Clifton's first gated estate," said Stuart Chait, chairman of Cape-based Land Equity Investments (LEI), lead developer of the site. Funded by LEI and Sasfin Capital, Nettleton Ridge will ultimately consist of four luxury homes.
"With breathtaking views of the Atlantic Ocean across Camps Bay and Clifton, and within clear sight of the Twelve Apostles, House 3, like the other homes in Nettleton Ridge, is being integrated sensitively into the adjoining mountainside," said Russell Smith, CEO of LEI.
The estate has been developed to ensure privacy for each of the four homes, using setbacks and landscaping. Cape Town-based Peerutin Architects and Metle Construction were brought in to design and build the homes so that each has its own architectural style.
Simeon Peerutin said many other houses in the area had no outside space, but he made the building as compact as possible, allowing for outside space.
Inside, House 3 has a master suite, three en-suite bedrooms and a large guest suite. The living space features a new-age kitchen, gym, spa, office, media room and server room, as well as a bar and wine cellar. The garage has space for six vehicles, there is an internal lift and the entire house features an intelligent home operating system.
Nettleton Road is shielded from the wind, a major factor in Cape Town, said Smith. "Also, the slope provides for 180- to 270-degree views, very much like Italy's Amalfi coast. There is also the ego factor to consider - the rich and famous rub shoulders in this area above Clifton's Fourth Beach. It's ironic to consider that you couldn't give property away in this area 50 years ago. Now, it is the most expensive tract of land in Cape Town."
Most of us will dream of owning a house with a six digit price tag but when it comes to purchasing a house for R110 mill and you bearley going to live in it, thats when you're really balling.
BCM
Timeslive