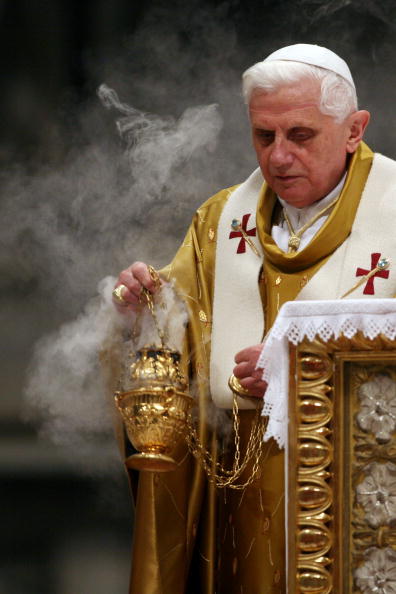 "You didn't expect me to walk around smelling like this stuff , did you?"
(MSNBC)
-
At 84, Pope Benedict XVI has proven to be a spiffy dresser. He wears cherry red loafers that landed him in the pages of Esquire magazine as the "accessorizer of the year," he's been spotted wearing sunglasses by Gucci and been outfitted by the Italian fashion house, Belstaff. Now, according to the Guardian, il Papa has commissioned his own brand of eau de cologne, a scent that only he may wear. The fragrance is a combination of lime tree, verbena and grass and was created by Silvana Casoli, an Italian nose, as perfume makers are called, who has created scents for Sarah Jessica Parker, Katy Perry, Madonna and Sting
Had no idea he was also known as the iL Papa, that's the sort of name that lives in the rap game.(I wonder who the Popes hottest MC's are). Is this what the Papacy has been reduced to, just trying to outswag your predecessor? John Paul II rode the popemobile, Now Benedict XVI, is hittin us with red loafers and signature scents. Maybe I should have payed more attention at Sunday School. Queues, Notorious B.I.G - Big Poppa on the playlist.
L.G